Our car decorating kits consist of 6 metres of 2" soft satin ribbon and 3 or 5 polypropylene pull bows in the same colour (see note), to match the ones we use on our cars. We can mix colours on request e.g. white ribbon, pink bows. Longer lengths or more bows can be supplied to order. Many colours are held in stock for immediate delivery.
Note: colours may vary slightly as the bows and ribbons are made of different materials by different manufacturers. Kits can be ordered online by using the buttons on the right, by contacting us or if you also want to book a car click here.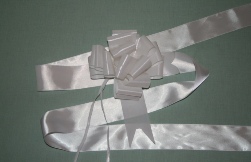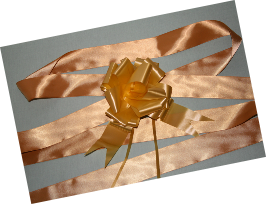 Stock colours posted next business day, rest aproximately one week.
6 metres of Ribbon and 3 x 150mm
(6") bows £6.00
6 metres of Ribbon and 5 x 150mm
(6") bows £7.00
Price includes UK standard delivery.
Please use the colour code from the table above. If no colour is selected we will supply 419 Bridal White.